Sky Salon and Sky Bath are exclusively reserved for residents occupying the entire 21st floor.
Enjoy a luxurious time with a beautiful night view of the Minami (south) district.


Sky Salon has been opened on the 21st floor as an exclusive space for our residents.
You will receive a truly excellent service provided by our specialized Salon staff who excel in sensitivity to the comfort of their customers.
Looking down on the night view of the Minami area from the heights, you can enjoy exquisite drinks or charming conversation in a smart and gracious setting at Sky Salon.
Sky Salon offers a very special value and status that is not to be found anywhere else.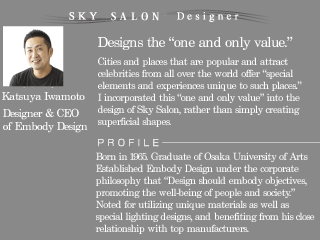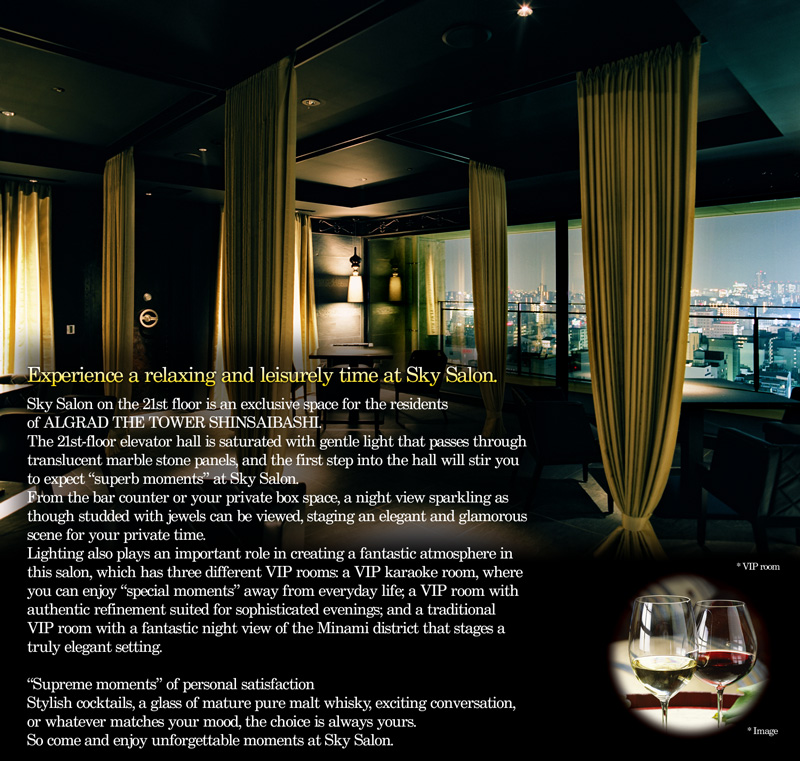 * Sky Salon rules and regulations are provided separately.


Sky Bath, situated within Sky Salon offers a large bathtub and sauna in which to relax. With its glass walls from which pleasant sunshine showers in, Sky Bath provides superb comfort and relaxation.
Sky Bath offers additional services, such as beauty treatments for women.
* Sky Bath rules and regulations are provided separately.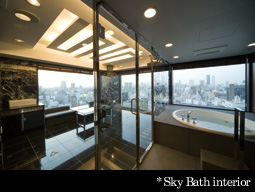 ALGRAD THE TOWER SHINSAIBASHI does not pursue superficial eccentricities in design or appearance. Under the design concept of "authentic luxury," we focus on creating special values for the property that won't be consumed by the passage of time but rather appreciate as time goes by, like an original artwork.
The images of the apartment building shown in this website may differ slightly from the actual building in design, specification, appearance, color or shape due to construction reasons or administrative guidance from governmental or regulatory authorities.